Access
Points GPS : 44.24088 and 4.31279
When entering THARAUX,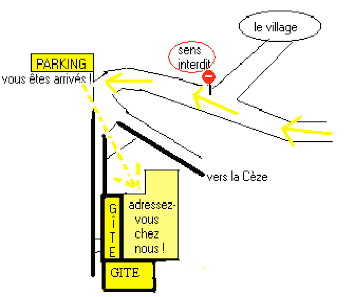 do drive into the no-entry road !
Ignore the uphill road on your right!
The "Gîtes de France" road-signs should help.
Drive on 200 metres. You then reach a parking area. Park there.
Our house is situated just where the road separates into two paths.
Be careful not to go downwards, it's a cul-de-sac, you'd end up at the river!
If you get lost, do ask for " les Charmassons" ( the Charmassons);
that's our name; everyone knows everyone else at Tharaux!
Chargement de la carte en cours